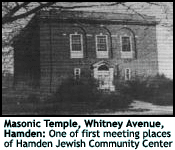 The need for a Jewish Community Center in Hamden had long been felt, particularly during the 1940's. In October of 1946, a nucleus of interested residents decided to organize a group.

Over one hundred people attended the first meeting of the Hamden Jewish Community Center on November 6, 1946, at the Church Street School. Shortly thereafter, a Sunday School was started, followed by a full Hebrew School program. A youth group and an adult education program were also established.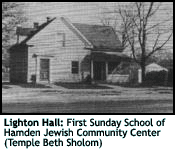 In 1948, High Holy Day services were held and in 1952, after the completion of its own building on Whitney Avenue, the Hamden Jewish Community Center hired its first permanent rabbi. The change to the name Temple Beth Sholom was made in 1956. In 1964, a sanctuary was added to the building, as were additional classrooms, a library and a youth lounge, later rededicated as the Shindell Youth Lounge.

In 1983, Rabbi Benjamin Edidin Scolnic joined us as our spiritual leader.

Twelve unique, floor to ceiling, stained glass windows were installed in 1986 in the sanctuary and set in their order in the Torah, beginning with Creation and going around the sanctuary to the end of the Book of Deuteronomy. The Bima was remodeled and the Sanctuary was dedicated in memory of Philip Bear, a past president and one of the founders of the Temple. The Temple's social hall was also completely redecorated.


In order to accommodate the needs of our dynamic, growing membership, the classroom building was gutted and reconstructed. In 2006, a new Chapel, a new Library, a refurbished social hall and all new classrooms for the Hebrew School and the K'tanim Nursery School were dedicated.
In 2014, after a massive fundraiser effort, all our roofs were replaced with modern, sloping and insulated material.
With a vigorous lay leadership and the continuing guidance of Rabbi Scolnic, Temple Beth Sholom is ready for the second half of the 57th century.