---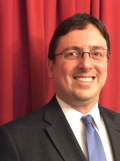 May 2020: From TBS President Josh Weissman
For the last almost 2 months, the only consistent and reliable thing has been change, with every day bringing something new and, usually, unwelcome. Events and activities have been postponed or canceled. While life (and the world) as we knew it have been disrupted, and perhaps permanently altered, at TBS we have made every effort to retain a sense of normalcy and minimize the overall general impact.
Dr. Martin Luther King, Jr. said, "The ultimate measure of a man is not where he stands in moments of comfort and convenience, but where he stands at times of challenge and controversy." As these would certainly qualify as times of challenge and controversy, I believe we have discovered the ultimate measure of the TBS community. We have held every service, kept Hebrew School running, had the Rabbi's Bible class, conducted the synagogue's business, held 2 Seders at the Rabbi's house and fed members of our community with manna (food from Abel's) during Passover (Dayenu!). We even found a way to make a virtual B'nai Mitzvah service happen. Virtual attendance at services has been tremendous, averaging almost double what our typical actual turnout would normally have been. In addition to all that, we also made sure to reach out to all of our members to keep everyone connected.
I would like to thank the entire IT team that made all of the streaming activities possible in a very short period of time – for those who are unaware; the initial setup was completed in less than 2 days. In the subsequent weeks, our broadcasts have gotten smoother. Thank you to Rabbi Scolnic for his guidance and flexibility in our initiative to keep the synagogue fulfilling its essential role in people's lives. Gail Raucher and our Hebrew School teachers found a way to make sure our children's Jewish education has been able to continue.
Finally, a special thanks to Joan Levine for spearheading the outreach before Pesach to our entire membership. This effort was not only well received, but the calls were very meaningful. They kept our members connected, especially those who are alone during these challenging times and unprecedented circumstances.
We will be communicating with you by email. If you do not currently receive TBS emails, please call the office and make sure that we have your correct email address.
You can also get the latest information about services, synagogue hours and programs, by:
Please continue to stay safe and stay healthy.
Josh Weissman
TBS President